Stephen Port 'drugged gay men before killing them'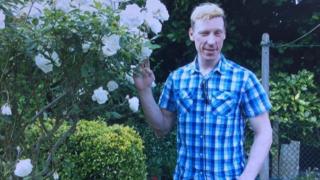 A man drugged four men he met on gay dating sites before sexually assaulting and killing them, a court has heard.
Stephen Port, 41, allegedly plied his victims with the drug GHB at his home in Barking, east London, before carrying out the attacks.
The Old Bailey was told the chef left their bodies in or near a churchyard and planted suicide notes and fake bottles of the drug on them.
He denies 29 charges, including four murders and seven rapes.
The offences are in connection with attacks on 12 men over three-and-a-half years.
The victims were: Anthony Walgate, 23, originally from Hull, Gabriel Kovari, 22, from Lewisham, Daniel Whitworth, 21, from Gravesend, Kent, and Jack Taylor, 25, from Dagenham, east London.
Prosecutor Jonathan Rees QC said the defendant was attracted to smaller boyish men he referred to as "twinks" who he would invite to his one-bed flat on Cooke Street.
The jury heard the accused lied to police about his involvement with the dead men. The bodies of all four victims were found near on in a churchyard about 400 metres from Mr Port's home.
Mr Rees said: "The prosecution say it is a case about a man – the defendant – who in the pursuit of nothing more than his own sexual gratification, variously drugged, sexually assaulted and in four cases killed young gay men he had invited back to his flat.
"We say all of the offending behaviour was driven by one main factor, namely the defendant's appetite for having sexual intercourse with younger, gay males while they were unconscious through drugs."