Another Side Of The Evergreen State College Story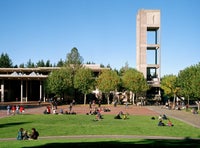 1. The Evergreen crisis fits a pattern of right-wing attacks on racial equity in higher education.
2. Evergreen's Day of Absence was not "reverse racism."
3. The student protests were not just about one professor.
4. The Tucker Carlson interview unleashed a flood of hate toward Evergreen.
5. Evergreen was targeted by a far-right terrorist threat and rally. 
6. Racist hate mail and threats targeted free speech at Evergreen.
7. Evergreen is a target of political assaults that could affect all of higher education.
8. Free speech works both ways.
9. Liberal arts and intersectionality are both about increasing available viewpoints.
10. Equity and diversity reforms are continuing.